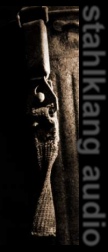 THE RULES:
(1) ALL RELEASES ARE LIMITED EDITIONS AND WILL NOT BE RE-PRINTED IN THESE FORMATS AGAIN.
(2) NO MATERIAL WILL BE PRINTED BESIDES THE EDITION, NO SPECIAL COPIES WILL BE MADE.
(3) NO FOREIGN CURRENCY EXCEPT DM, USD, ENGP OR GLD WILL BE ACCEPTED.
(4) NO COINS WILL BE ACCEPTED ASWELL AS NO CHECKS.
(5) SEND MONEY IN A REGISTRATED LETTER TO BE SURE OF HIS ARRIVAL.
(6) WE HAVE A DELIVERY TIME OF 3 WEEKS.
(7) NO REFUNDS CAN BE MADE.
(8) ALL PRICES ARE EXCL. POSTAGE.
THE MATERIAL:
SKA 01/001
A CHALLENGE OF HONOUR - The Right Place (MC-Box)
In the style of the first Blutharsch album, Lim.Edit. of 30 copies.
Price: 15 dm, 8 usd, 15 gld or 5 ukp
SKA 01/002
LA REINE NOIR - History's Winds (MC-BOX)
To be released soon........!